"SARTONK" Premier Belt Maker of The WBA, IBF, WBO & IBO Confirmed for the Inaugural Box Fan Expo to Take Place This September in Las Vegas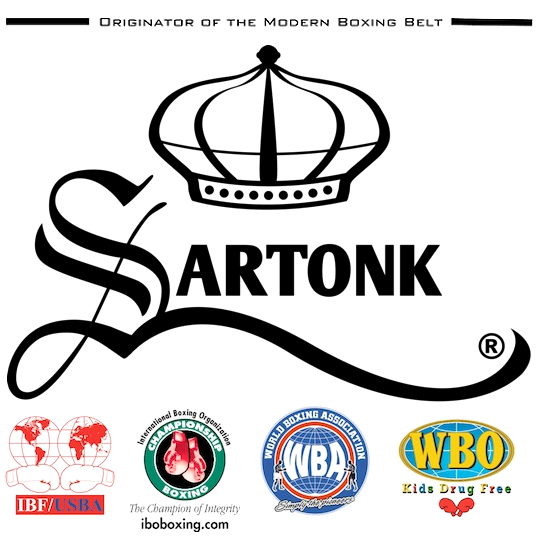 MEET AND GREET the world's biggest fighters, promoters and industry people at
the first time, one of a kind event
Las Vegas (JULY 30th, 2014) – SARTONK the premier belt maker of the WBA, IBF, WBO and IBO have confirmed that they will appear and have a Booth to Meet and Greet boxing fans at the inaugural Box Fan Expo this September at the Las Vegas Convention Center during the Mayweather vs Maidana rematch fight weekend.
SARTONK was founded in 2009, to safeguard a boxing legacy that dates back nearly four decades. In the late 1970s, Ardash Sahaghian was invited to apply his training as a jeweler to the modernization of championship boxing belts. The most visible of his works are the WBA, IBF, WBO, IBO, and Ring belt designs. During the tenure of his grandson, Edward S. Majian, SARTONK has preserved the classics and created contemporary designs, carrying the legacy into mainstream appreciation. Acting on the belief that champions deserve nothing less, SARTONK has elevated "the belt" to a work of art.
Featured in ESPN The Magazine in 2013, and, most recently, a recipient of a FedEx Small Business Grant award, SARTONK has gained international recognition not only for its expertise, but also, its company philosophy, which is based on integrity, community, and social contribution. SARTONK's annual Ali-King Award encourages critical thinking and writing among boxing's youth. While maintaining its high standards of design and craftsmanship, SARTONK uses its position in the boxing industry as a force for good.
Quote from President Edward S. Majian :
" I strongly believe in the vision of the Box Fan Expo. Such an event is long overdue, and SARTONK is proud to be a part of the inaugural expo. This is all about community"
Every year, one of the biggest boxing weekends of the year is Mexican Independence Day. In 2014, that weekend has just got bigger, better and more fan accessible with the announcement of the FIRST-EVER BOX FAN EXPO.
Box Fan Expo will take place on Saturday, September 13th, 2014 at the Las Vegas Convention Center and will run from 10am to 6pm.
To Purchase tickets click:  http://www.BoxFanExpo.eventbrite.com/ 
Box Fan Expo is the ultimate fan experience that was created to promote the entire boxing industry and to allow fans to celebrate, Meet and Greet their favorite boxers and boxing celebrities. The event will feature boxing legends, today's superstars, Hall of Famers, future prospects and the stars of today all under one roof.
The event will also feature major promoters, ring card girls, sanctioning organizations as well as trainers, referees, commentators and announcers. Anyone that directly or indirectly represents the sport of boxing will have a chance to showcase themselves to the boxing fans and whole industry. Also in attendance will be exhibitors, sponsors, television broadcasters and media.
Box Fan Expo will also feature different activities such as autograph sessions, photo ops, weigh in, face off with your favorite fighters and buy merchandise.
Throughout the next several months, there will be weekly updates on the many stars that have already committed their appearance at the Box Fan Expo.
For anyone in the industry who would like to be involved and reserve a booth, contact
Box Fan Expo at:
U.S.A Telephone Number: (702) 997-2099 or (514) 572-7222
Email: info@boxfanexpo.com 
For more info go to: www.boxfanexpo.com
Follow Box Fan Expo on twitter: https://www.twitter.com/BoxFanExpo
Like us on Facebook: https://www.facebook.com/BoxFanExpo
Box Fan Expo is committed to helping the Retired Boxers Foundation which is a nonprofit organization that helps improve the quality of life for retired fighters. This is a fantastic opportunity for sponsors, retailers and anybody involved in the boxing industry to get involved and be a part of this once in a lifetime event and help out this great cause.. Box Fan Expo is proud to announce that part of the proceeds from the event will help the Retired Boxers Foundation.